Art and Literature - Troupes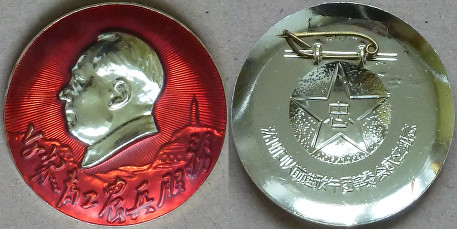 Left: commemorates the establishing a revolutionary committee for the Shenyang Guard Progressive Song and Dance Troupe (Guard refers to a PLA guard unit, not Red Guards).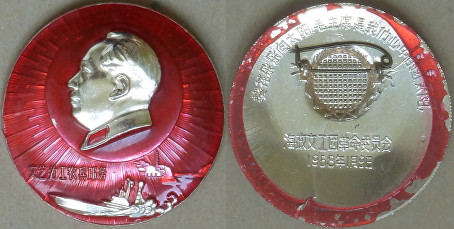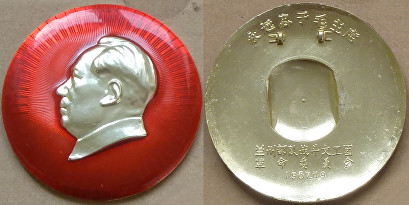 What began with groups of soldiers combining their talents to entertain themselves and their comrades blossomed into the performance troupes that spear-headed the Communists "agit-prop" campaigns in the liberated areas. Villagers were treated to a mix of songs, dances, skits, and recitations that conveyed socialist propaganda in ways that were easy to understand and remember. As increasing numbers of "creative" people (including Jiang Qing) sought refuge with the Communists, these predominantly military performers became increasingly polished and professional. By the time of Mao's 1942 talks on art and literature some works which subsequently became revolutionary "classics", e.g. The White-haired Girl, had achieved something close to their final form.
The reverse inscription on the badge at right marks the establishment of a revolutionary committee for the Beijing Military Region Comrade-in-Arms Corps, which was one of the army's oldest cultural groups. It had its origins in the Eighth Route Army under Nie Rongzhen with the formation in December 1937 of the Anti-Japanese Theatre of the Ministry of Political Affairs of the Jinchaji Military Region, popularly known as the "Resist-the Enemy Theatre Company". In 1949 it was designated the Cultural Department of the Political Department of the North China Military Region; and in May 1955 was officially named the Comrade-in-Arms Cultural Corps of the Ministry of Political Affairs of the Beijing Military Region.
The badge at left was issued by the Lanzhou Combat Art Troupe, which was founded in 1946 as the Combat Song and Dance Ensemble of the Political Department of Lanzhou Military Region by combining personnel from the propaganda teams of the Shanxi-Suiyuan Army of the Shaanxi-Gansu-Ningxia Border Region and the Northwest Field Army.
The badges below have the obverse inscription, "Art and literature must serve the workers, farmers and soldiers", a quotation from Mao's Talks at the Yan'an Forum on Literature and Art; the Yan'an reference is reinforced by the iconic image of Pagoda Hill and cave houses.
Right: issued by the Naval Cultural Ensemble, the obverse inscription quotes two lines from a revolutionary song, "Sunflowers all turn towards the sun, Chairman Mao is the reddest sun in our hearts", above a stylised sunflower.
Literature
Hongyan (novel)