Dazhai was a production brigade in rural Shaanxi where villagers had rejected the reintroduction of private plots, and had worked collectively to improve the land and increase production. In 1964 Mao declared the Dazhai brigade to be a model organisation and launched the slogan, "In agriculture, learn from Dazhai". The brigade leader, Chen Yonggui, became a national figure and was elected to the Central Committee and later to the Politburo.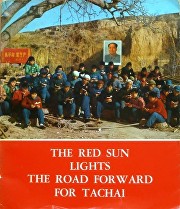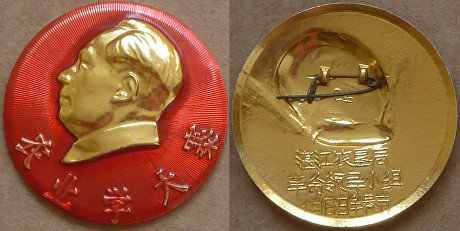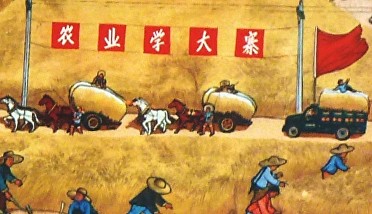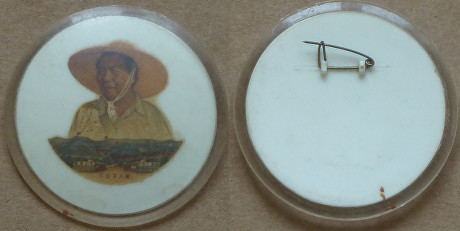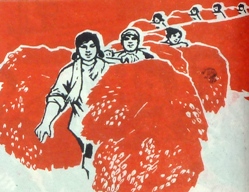 The slogan, "In agriculture, learn from Dazhai", was displayed in countless fields across China.
Detail from Longkou wins food by Ge Zhengmin
Masthead book illustration of Dazhai's abundant produce
Dazhai also featured prominently in soft-propaganda aimed at non-Chinese audiences. This large-format (254 x 220 mm) 136-page book is packed with colour and black-and-white photographs and numerous quotations from Chairman Mao. Published by the Foreign Language Press in 1969, the book still uses the old-fashioned transliteration Tachai.
The badge below was issued by the Revolutionary Leadership Team of Zhanjiang State Farms (in Guangdong) to celebrate the 1969 Spring Festival.
These two badges show a view of Dazhai beneath the Chairman