"Political work is the lifeblood of all economic work"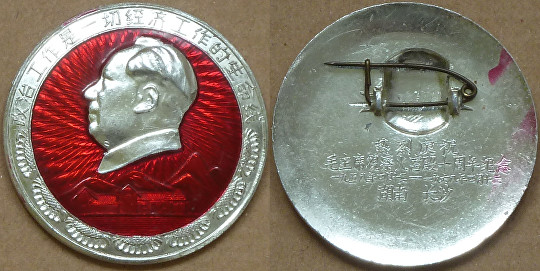 Badges that portray Mao's childhood home at Shaoshan almost invariably have an inscription of the personality-cult type that refers either to the "rising" of the "red sun", or to his birth date.
The badge at right has an obverse inscription taken from the introductory note to his 1955, "A Serious Lesson: The Socialist Upsurge in China's Countryside". The unusual combination of words and image is explained on the reverse, and in this case the image of Shaoshan serves as a reminder that the Chairman was born and raised in Hunan.
The reverse inscription celebrates and commemorates the 10th anniversary of Mao's visit to the Fire Palace Restaurant in Changsha on 12th April 1958. His fondness for spicy Hunanese cuisine is now well known, but was unlikely to have been common knowledge in the late 1950s. Gastronomic indulgence was not the main reason for Mao's visit. According to the recollections of one of the waiters, when the Chairman arrived he made a point of shaking hands with every member of staff and then spent more than an hour talking to them about the class struggle of catering workers who under the "old" regime had lived at the very bottom of society and had been treated like horses and cattle. He also asked a variety of questions about working conditions and the price of meat and vegetables. When Mao finally sat down to eat he insisted on helping the servers smooth out the table cloth. This simple unaffected gesture made a profound impression on those present.
Detail of the facade of the Fire Palace restaurant as it is today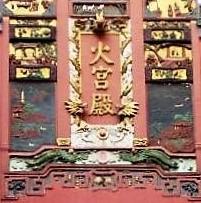 The Fire Palace Restaurant is still open for business and among the snacks currently on offer is Mao's Home-style Braised Pork.