In 1865, during the Self-Strengthening Movement, the Jiangnan Shipyard was established as part of the state-owned Kiangnan Arsenal in Shanghai. Kiangnan produced firearms, cannon and naval ships, including China's first domestically built steamship. The shipyard was separated from the arsenal in the 1920s.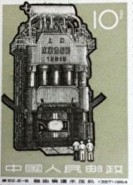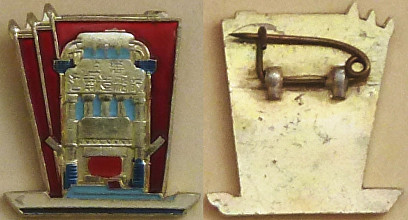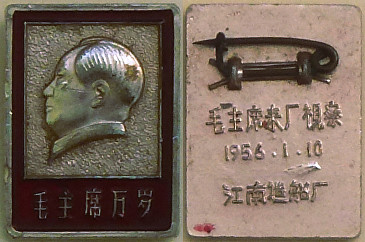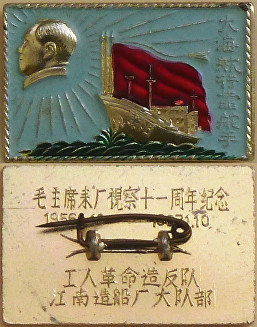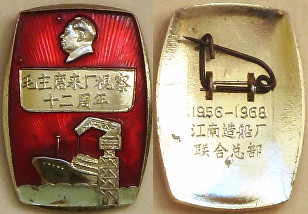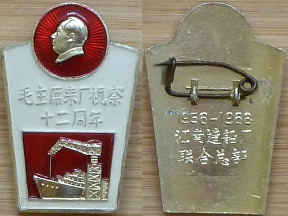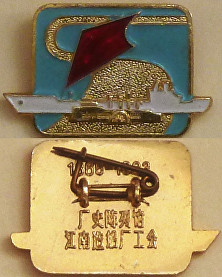 This badge portrays the 10,000-tonne hydraulic press (the first in China) that was developed at the Jiangnan Shipyard.
The badge, which is inscribed, "Shanghai, Jiangnan Shipyard", probably predates the Cultural Revolution by a few months, and may be connected with the stamp issued at the beginning of 1966 that commemorated the same achievement. The elegant cruise ship at the bottom, however, represented aspiration rather than actuality at this time.
Mao visited Jiangnan in January 1956, an event that was commemorated on numerous badges. The 11th anniversary of his visit was celebrated by a badge issued by "Revolutionary Rebels"; whereas for the 12th anniversary the badges were issued by the "United Alliance Headquarters". It is notable that there is no mention of a Revolutionary Committee on the two 1968 badges below.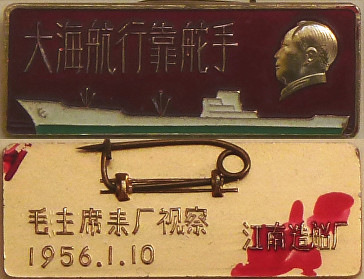 The above badge was issued in 1983 by a local trades union to celebrate the shipyard's uninterrupted history. The occasion was presumably the 30th anniversary of it receiving its present name in 1953. At the mouth of a golden river is the silhouette of an ocean-going tanker in front of which is the yard's first modern ship, the paddle-steamer Huiji launched in 1868.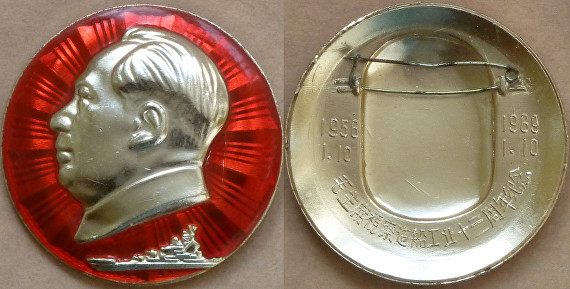 Commemorating the 13th anniversary of Mao's visit