A Long March veteran and proven military commander, Lin Biao rose as far as was possible in Mao's China. Successively promoted to Defence Minister, Vice-Chairman, and Mao's designated successor, Lin was at the height of his power and influence for the 40th anniversary of the founding of the PRC in October 1969.
In September 1971 Lin, together with some family members, fled China and was killed when their aircraft crashed in Mongolia. Lin was subsequently denounced as a a traitor and was posthumously subjected to a campaign of "damnatio" - his image was destroyed or defaced, his inscriptions were erased, his name was crossed out in books, and very few Maozhang showing Mao and Lin together have survived.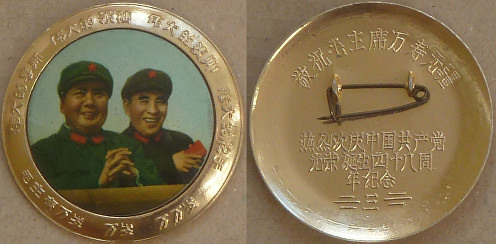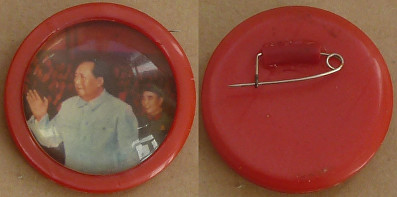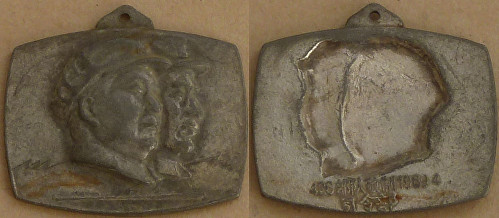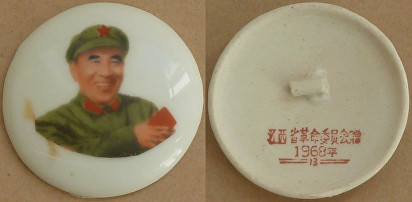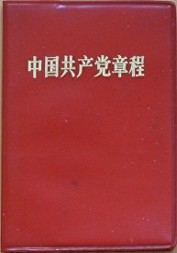 h. 37mm w. 47mm (excluding protusion) 23.5g
pewter or similar alloy
When Lin's death was made public he was "reclassified" as an enemy of the people
The 1969 Constitution of the CCP.
Lin made a solo appearance on very few badges. The above example is from a set (apparently unissued) that also featured Zhu De as well as several portraits of Mao.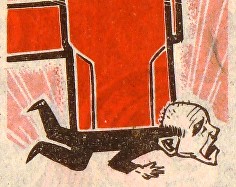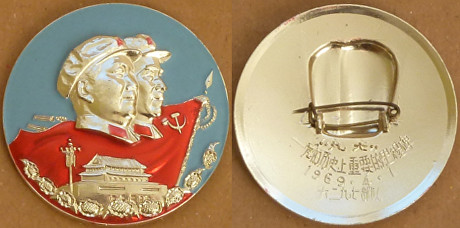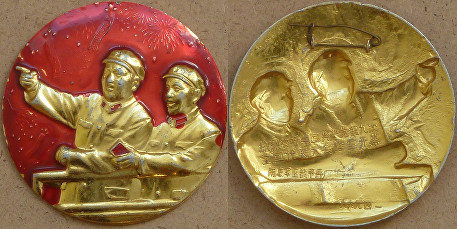 The two badges above commemorate the opening on 1st April 1969 of the ninth National Congress, which approved a new party constitution that named Lin as Mao's successor.