Lu Xun (1881-1936) is the most celebrated figure of modern Chinese literature. As author, essayist and critic, Lu pioneered the use of vernacular language in writing as opposed to classical "literary" language. His short stories and essays became very popular during the 1920s, and his novella The True Story of Ah Q was considered for the 1927 Nobel Prize for Literature. Politically, Lu was a freethinking socialist who was highly critical of China's passively moribund society and culture. He had close links with the fledgling CCP, although he declined to apply for membership, and was co-founder of the League of Left-Wing Writers. Lu died from tuberculosis in 1936.
Mao greatly admired Lu's work, although he could not tolerate the writer's freethinking objections to Party discipline, and posthumously co-opted him to the Communist cause citing him as "a saint of modern China". When an art school was established in Yan'an in 1938 it was named the Lu Xun Fine Arts Academy. Extracts from Lu's writing have been core texts in the Chinese educational system since the foundation of the People's Republic.
This badge is a visit souvenir from the Lu Xun memorial Hall in Shanghai, and probably dates to the Cultural Revolution period. The Lu Xun Memorial Hall was constructed in 1951 close to where the writer was buried iin a public park (now known as Lu Xun Park) near his residence in the former International Settlement.
In October 1966, at a meeting with senior cadres to discuss their fear of the Red Guards, Mao exclaimed, "Mustn't we allow people to make mistakes, allow people to make revolution, allow them to change? Let the Red Guards read The True Story of Ah Q."
Some Red Guards not only read Lu Xun, they published him in a volume that bore a close resemblance to the "little red treasure" - the red vinyl-covered edition of Mao's own Quotations.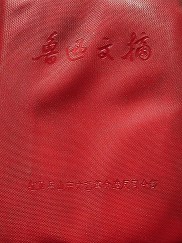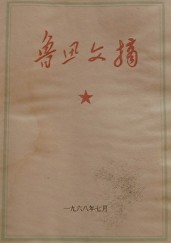 Cover and title page of a collection of Lu's works published in July 1968 by the Shangdong Red Guard Literature and Art Revolutionary Command.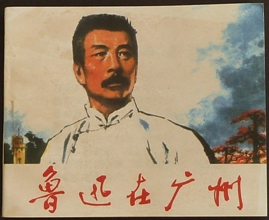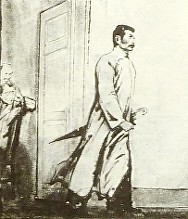 This xiaorenshu entitled "Lu Xun in Guangzhou" published in 1974, with an authorised print run of 1,500,000 - 2,500,000 copies, relates the writer's life during the first nine months of 1927. Lu was working in Guangzhou as head of a university department, and also lecturing at the Whampoa military academy, when the Communist-Nationalist alliance was shattered at the end of the Northern Expedition by the arrest and execution of thousands of communists in Shanghai. Following the "Shanghai Massacre" hundreds of suspected communists, including some of Lu's students, were rounded up in Guangzhou. Lu bravely tried to intercede to save his students, and when he failed to secure their release he departed for the safety of the International Settlement in Shanghai.
Intentionally or not, this image on page 80 of a determined socialist wearing a scholar's gown and carrying an umbrella carries echoes of the famous painting Chairman Mao Went to Anyuan.