This badge was issued by Shanghai's No. 1 Thermal Insulation Bottle Factory. China's first vacuum flask factory was established in Shanghai in 1923, and was destroyed by bombing during the Anti-Japanese War. A new factory - the Everbright Thermos Factory - was established in 1958 and in 1966 was renamed the Shanghai Thermal Insulation Bottle Factory.
The factory's best-known product was the Xiangyang (Sun-facing) brand vacuum flask, which became a must-have dowry item. The casing of the flask was decorated in a wide variety of styles: calligraphic slogans, flowers (especially peonies), and suitable revolutionary models and achievements. The design team was expected to submit six designs each month.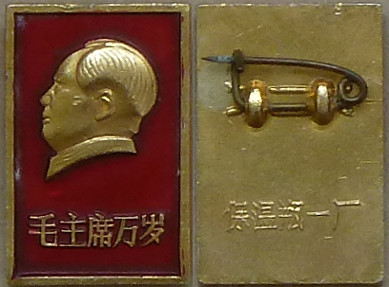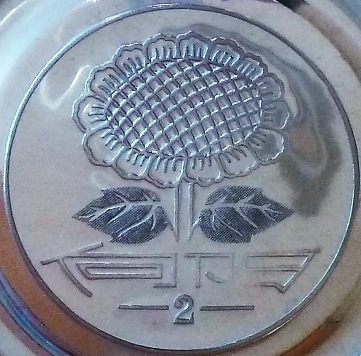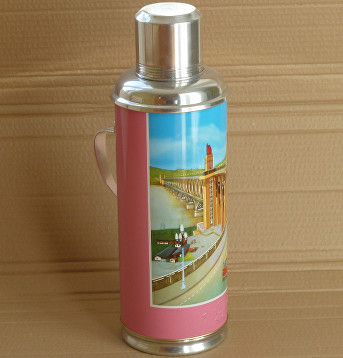 The distinctive Xiangyang logo was designed by Zhou Daliang and worked equally well when printed on paper or stamped into the aluminium cap, which also served as a drinking cup.
This example, which probably dates from the mid-1970s, has a wrap-around image of the bridge over the Changjiang at Nanjing - a widely publicised source of national pride.
For an ordinary worker, obtaining one of these highly desirable items required both planning and good fortune. Availability was, to put it mildly, unpredictable, and only "showcase" stores in the largest cities could offer a selection of flasks. Under the rationing system for factory-made consumer goods introduced in 1962 obtaining a flask required the requisite number of special coupons, which were meagrely doled out at a rate of a few per month. In addition to the purchase price, which for a quality item like the Xiangyang flask was equivalent to several days' wages, a worker also needed to have saved up these special coupons for three or four months.