The box is stoutly constructed from 2mm thick card wrapped with pre-printed eggshell-finish coloured paper accurately positioned and glued into place. The upper and lower parts are a close smooth fit. In addition to a discreet depiction of the mausoleum (captioned in Chinese and English) the top is asymmetrically decorated with deliberately incomplete semi-circular designs of bamboo, pine, and plum in matt gold. The lower part contains a closely fitted insert of black flocked card, with a white ribbon tab to aid removal. The badge is well made and considerably heavier than CR-era badges of comparable size.
In size and appearance the box is akin to the packaging of non-precious metal "designer label" earrings or similar small, luxurious objects; and was clearly aimed at the wealthy and/or cosmopolitan visitor.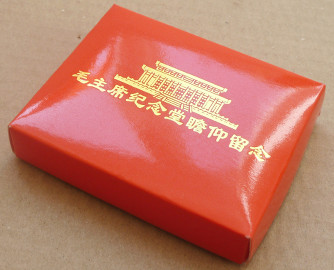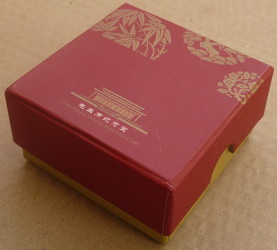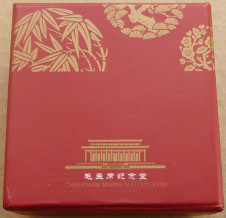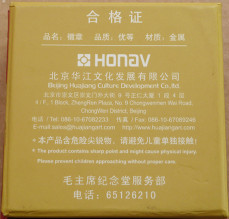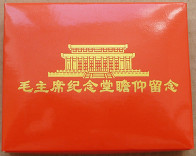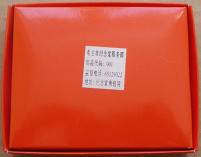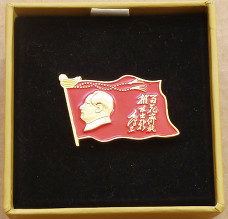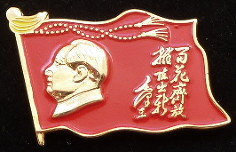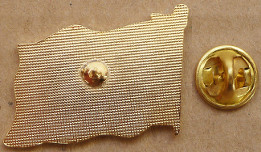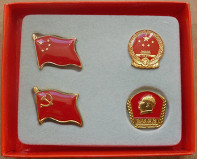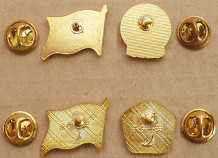 In obvious contrast, the second example is a low-cost mass-market item. The box is made from thin high-gloss red card with a flocked pressed plastic insert. There are signs that the item was assembled from disparate components - very loose fit between box and plastic insert, and lack of uniformity of the badge reverses. Three of the badge designs - the two flags and the state emblem - are generic and widely available, sold singly and in various combinations at numerous tourist sites. The fourth belongs to class of posthumous Mao badges made and sold as souvenirs since the late 1970s. Similar badges are shown below for comparison.
Whether consciously intended or not, the combination of national flag, party flag, national emblem and Mao badge inside a mausoleum-emblazoned container suggests that the mausoleum is more than just a monument to a great leader; it is also monument to the foundation of the People's Republic of China under the leadership of the Communist Party. Like the Great Hall of the People, and Tiananmen Square itself, Mao's mausoleum is a part of the constructed heritage of New China.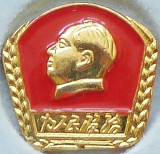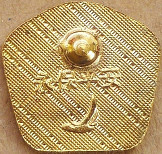 l. 70mm w. 72mm h. 38mm
weight of box plus contents 48.5g
h. 24mm w. 35mm 8.4g (excluding butterfly clutch)
In spite of his personal wishes, Mao Zedong's body was embalmed, encased in crystal, and put on public display inside an imposing mausoleum constructed in 1977 at the southern end of Tiananmen Square.
Souvenir production began immediately, and two 21st-century examples are shown here.
l. 91mm w. 73mm h. 18mm
weight of box plus contents 27.5g
h. 17mm w. 18mm 3.0g (excluding butterfly clutch)