The badge at left was issued by the Guangxi Daily, and has the obverse inscription, "Newspapers should not be closed, they should be open to the masses", in Mao's distinctive handwriting.
In January 1958 Mao had spent a day as editor of the Guangxi Daily, and he published an open letter to the Guangxi Party Committee on Newspapers in which he commented that newspapers "will help to organize, encourage, stimulate, criticize, and promote the work of all the people in a province."
The badge at right was issued by the Xinhua Daily, the oldest communist newspaper in China founded in 1938 by a group of revolutionaries that included Zhou Enlai, and since 1952 the official newspaper of the Jiangsu Provincial Committee. The badge commemorates the first anniversary of the newspaper's "regeneration". Given the date of this event, 9th January 1967, it seems likely that this regeneration was the result of a power seizure associated with the January Storm.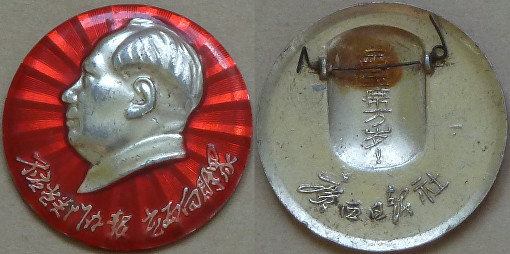 The power of the press was a key feature of the Cultural Revolution. The pages of the "nationals" - People's Daily and Liberation Daily - were eagerly (or apprehensively) scanned for the latest directives and official commentary. The provincial papers interpreted these in line with local conditions, while Red Guards and rebel factions maintained shadow news-gathering networks and published numerous newspapers that had extremely limited circulations.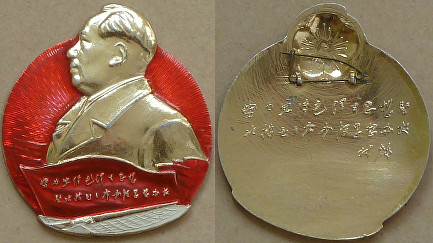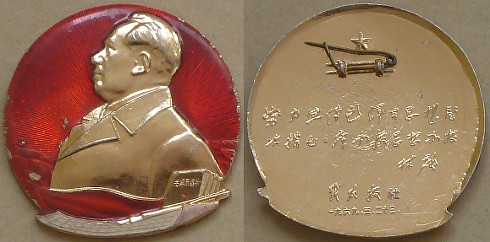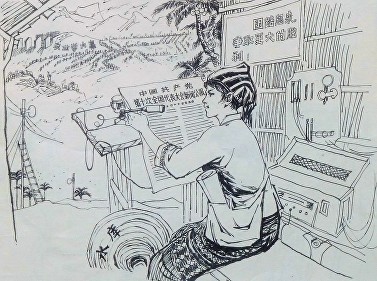 "Our newspapers should reprint Red Guard articles. They are very well written whereas our stuff is utterly lifeless."
Comment, attributed to Mao, at a meeting of the Central Cultural Revolution Group, 9th January 1967
The two badges below are inscribed with a directive from Lin Biao, perhaps issued in response to Mao's comment:
"Promote Mao Zedong Thought. Make newspapers according to Mao Zedong Newspaper-making Thought".
Note the newspaper layout grid beneath the pen
Despite the profusion of paper in the big towns and cities, newspapers were in relatively short supply in the countryside (where literacy rates were at their lowest) and usually arrived days or even weeks after publication. Many farm-workers, and the work-teams mobilised to work on projects in remote places, had newspapers read out to them over a local loudspeaker system. This method was especially important in ethnic minority areas where the announcer would translate Chinese newspapers.