The badge at right, with the obverse inscription "Forever loyal to Chairman Mao", was issued in Guangxi by the Guilin Revolutionary Committee Workers' Picket Team on 8th August 1968. Guangxi experienced particularly bitter factional conflict, during which there were several instances of mass killing. The fighting culminated in July and August 1968 when the PLA-supported Guangxi Union wiped out the opposing 22nd April faction. It is likely that the Guilin Revolutionary Committee was a part of the Guangxi Union.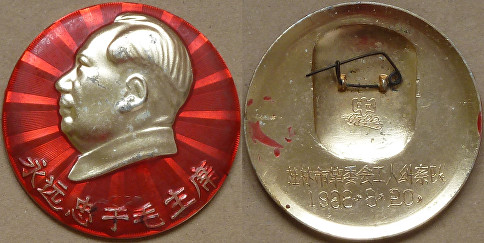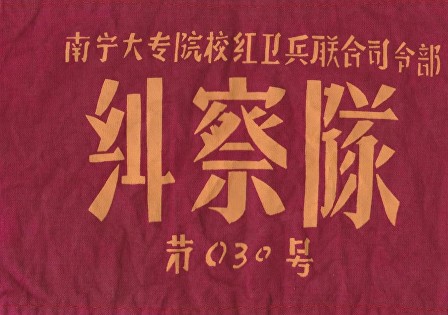 Pickets were in theory opposed to violence. The first pickets, e.g the Western District Picket Force, were formed in Beijing high schools, with the covert support of Zhou Enlai, in late August 1966 in response to an "Urgent Appeal" against the wave of Red Guard violence that was unleashed on the capital after the first Tiananmen Square rally. Despite their stated intention to moderate and restrain arbitrary violence, some of the picket forces resorted to the same tactics of kidnapping and beatings as their opponents. They were repeatedly denounced as "bourgeois reactionaries" by prominent figures such as Jiang Qing; by the end of October 1966 the picket forces had ceased to have any significance in Beijing.
Beijing was the model for all things Red Guard including pickets, which were soon established in other cities across China. Although supposed to inhibit and prevent violence, these picket forces often degenerated into fighting factions.
"Picket Team" armband issued by Nanning Universities and Colleges Red Guard Joint Command