The short form and abbreviation - Cultural Revolution (CR) - tend to obscure the proletarian intent of Mao's last revolution. In 1966 the overarching ideological, and hence political, struggle was reduced to a polarity between the proletarian (socialist) and bourgeois (capitalist) paths to the future. The people's democratic dictatorship was to be replaced by a dictatorship of the proletariat - the meaning of which extended far beyond industrial workers to include peasants, students and all those who were not actively or passively capitalist-roaders. Nevertheless, the most fervent advocates of this dictatorship were militant "leftist" factions.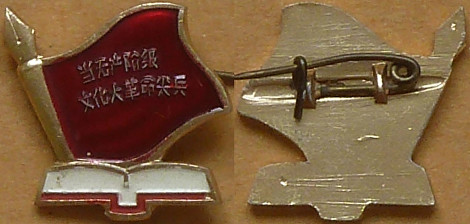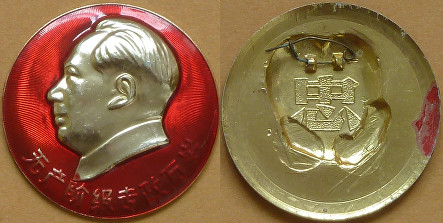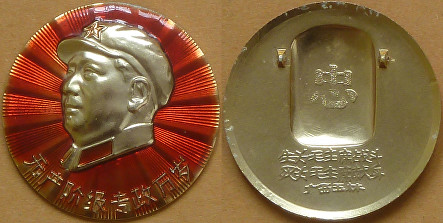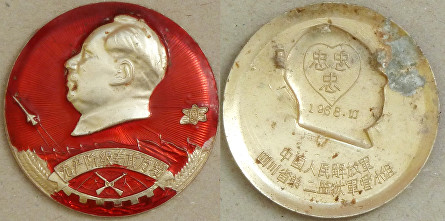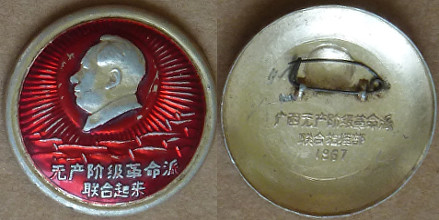 Long Live The Great Proletarian Cultural Revolution
Long Live The Dictatorship Of The Proletariat
The Proletatiat, Vanguard Of The Great Cultural Revolution
Proletarian Revolutionaries Unite
The badge above left has the reverse inscription, "Born to fight for Chairman Mao, and ready to die to protect him".
The two badges below were issued by Guangxi Proletarian Revolutionaries; the call for unity speaks of factionalism.