As early as June 1966 command of some of Beijing's public security units had been transferred to the Beijing Garrison. This process of the militarization of public security continued on an ad hoc basis until the very end of 1967 when control of the whole public security apparatus was formally handed over to the PLA.
This transition is neatly illustrated by two public security badges from Guangxi - Guangxi Union was the winning side in the province-wide civil war that raged through the summer of 1967.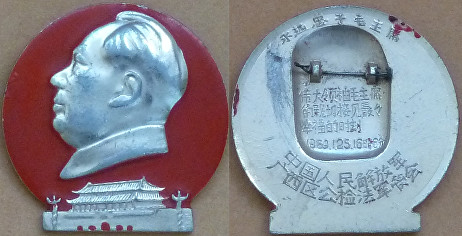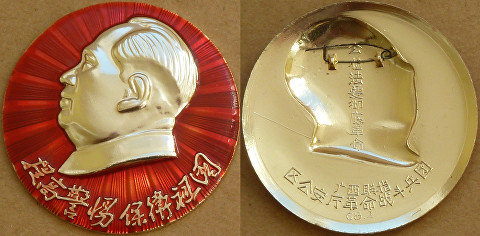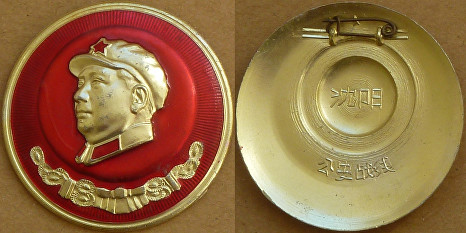 During 1967 central government lost unified control of the public security forces. Following Mao's call for mass democracy, public security organs were subject to power seizures and inevitably became embroiled in the prevailing factionalism. Even the most ardent revolutionaries accepted the necessity of public security and local "peace treaties" between warring factions often involved provision for public security forces.
The badge below was issued by the Wuhan Area Public Security Alliance, New Public Security Command
The badge below was issued in the name of the Shenyang Public Security Front
The obverse inscription reads, "Increase Vigilance, Defend the Homeland". The reverse inscription reads vertically, "Public Security Organs in Radical Revolution"; and horizontally, "Guangxi Union, District Public Security Bureau Revolutionary Battle Corps".
This badge commemorates attendance at a reception held by Mao on 25th January 1969; it was issued in the name of, "The Chinese Peoples Liberation Army, Guangxi Public Security under Military Control".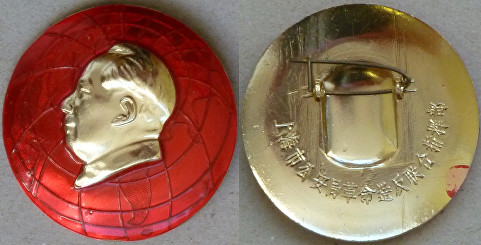 The badge at left was issued by the Shanghai Public Security Bureau Revolutionary Rebels Joint Command.