The reverse inscription records that Chairman Mao personally led and guided the Communist Party in the Hunan region - it was as one of two representatives from Hunan that Mao attended the first National Congress in Shanghai in 1921.
The obverse shows the entrance to Mao's house in Changsha's eastern suburb of Qingshuitang.
The Hunan branch of the Chinese Communist Party was formally established on 10th October 1921 with Mao as secretary; and his house in Qingshuitang became the local party headquarters. Mao was extremely active and ambitious at this time and within a year, in addition to running the Cultural Book Society and his duties at the Self-Study University, he also became secretary of a CCP Special Committee that included communists from Hunan and neighbouring Jianxi, and head of the Executive Committee of the Socialist Youth League of Changsha.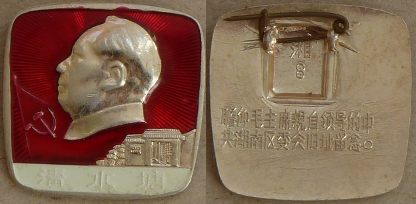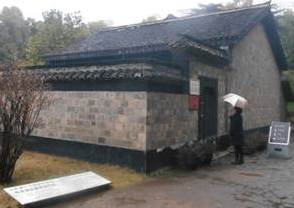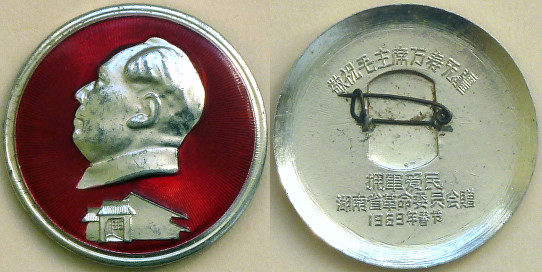 The badge above was issued by Hunnan Province Revolutionary Committee for New Year 1969, and has the reverse slogan, "Support the army, cherish the people".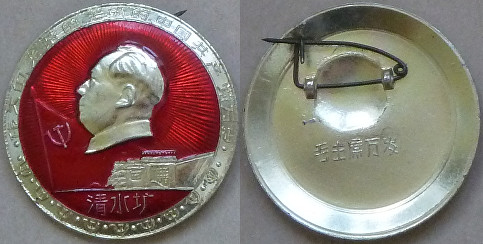 Mao's house restored and preserved
The badge at left visually identifies the house with the Party (as HQ) as well as with the Chairman. The obverse inscription locates Mao's house at Qingshuikuang instead of the more usual Qingshuitang (see the badge at top of page).
The latter name was probably preferred because tang=pond, while kuang = tomb.