In addition to the eight Red Guard rallies at the beginning of the Cultural Revolution, Mao made many other personal appearances on inspection tours and factory visits and he attended numerous receptions of varying size and significance. The officially-sanctioned Newspaper Handbook, was published shortly after the Ninth National Congress (where the Cultural Revolution had been declared complete) and lists nineteen major "receptions" at which Mao, sometimes accompanied by Lin Biao, met with representatives of the revolutionary masses.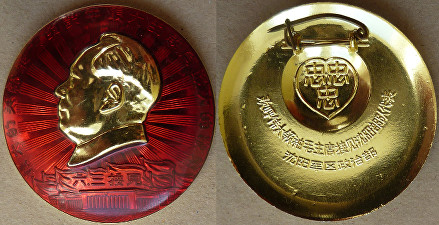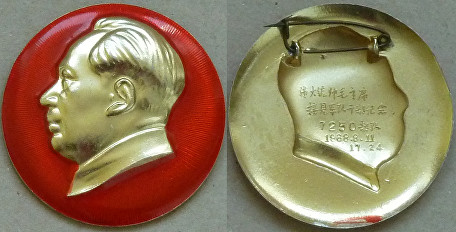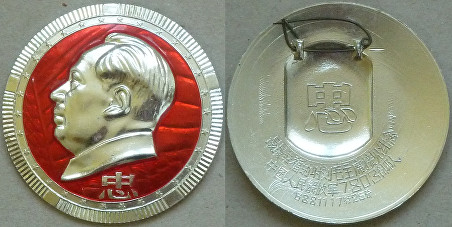 11th August 1968 (number 15 on the handbook list)
The 11th August reception was attended by PLA comrades from Fuzhou, Wuhan, Chengdu, Kunming, Xinjiang, Tibet, Luhai and Hainan, together with representatives from the Navy's Fourth Good Company Congress and Mao Zedong Thought activists. These three badges meticulously record the exact time of reception. Units 7250 and 7254 (above) were received at 17:24 hrs, and Unit 7803 (left) was received at 17:25 hrs; this suggests that representative individuals or small groups were received at precisely timed intervals.
29th January 1969 (number 19 on the handbook list)
Mao's final reception before the Ninth National Congress was attended by more than 40,000 "revolutionary fighters" including representatives from all branches of the armed forces, the Metallurgical Industry Grasping Revolution Production Conference, and the National Defence Science and Technology Commission. The two badges above were issued by Guangxi's Public Security Bureau and the obverse inscription describes as the reception as "cordial".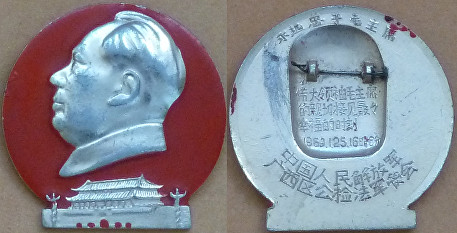 This reception was attended by more than 20,000 people including representatives from the People's Liberation Army Headquarters staff, the Mao Zedong Thought Cadre Class of the PLA's 31st Army, and military units from the Nanjing and Shenyang areas. Most of the badges below were produced by units based in Shenyang, including the Political Department of Shenyang Military District and the Shenyang Garrison.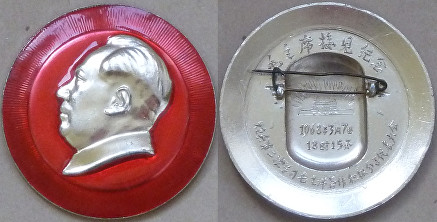 7th March 1968 (number 11 on the handbook list)
3rd June 1968 (number 13 on the handbook list)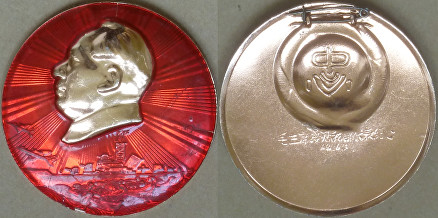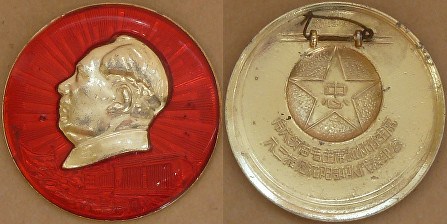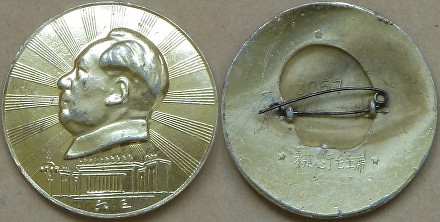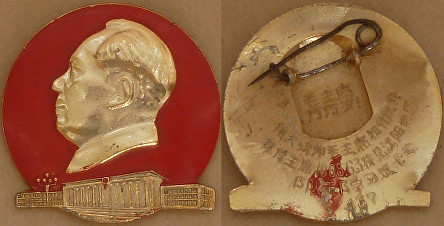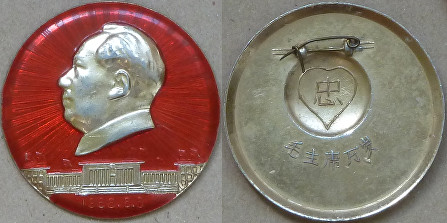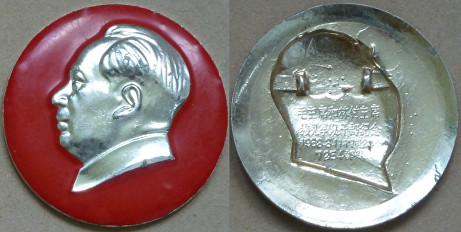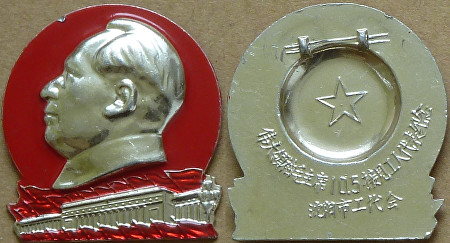 This badge was issued by an artillery unit that was received by Mao at 6:15 pm on 7th March 1968. Also attending the reception were representatives from armoured and engineering units, military and political academies, and persons attending professional meetings in Beijing.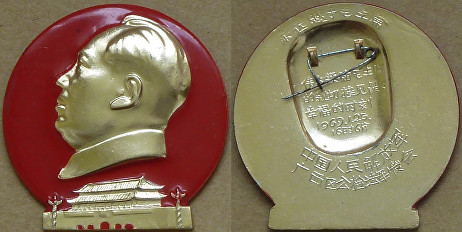 5th October 1968 (number 18 on the handbook list)
30th June 1968 (number 14 on the handbook list) - see Happiest Day
This badge was issued by the Shenyang Workers' Congress who attended the 5th October reception along with representatives from revolutionary committees in various provinces, municipalities and autonomous regions, nearly 10,000 outstanding workers, and representatives of all ethnic groups across the country.