The Red Lantern became one of the most popular of the model revolutionary works. Originally a film script, it was transformed into a Peking* opera in Harbin. In 1963 it was taken to Shanghai and rewritten in the local Huju style Jiang Qing saw a performance there and approved it. She instructed the China Peking Opera Company to transform it back to Peking-style as one of her model works.
Set during the Anti-Japanese War, the opera tells the story of a railway signalman, Li Yuhe, who secretly uses his red lantern to communicate with Communist guerillas. Li Yuhe is arrested and executed by the Japanese but not before he has passed on the red lantern, and his patriotic and revolutionary duty, to his daughter, Li Tiemei.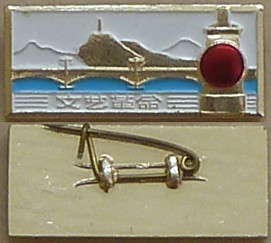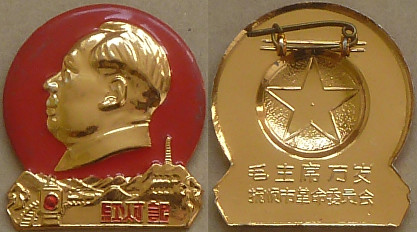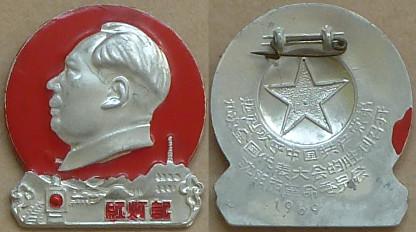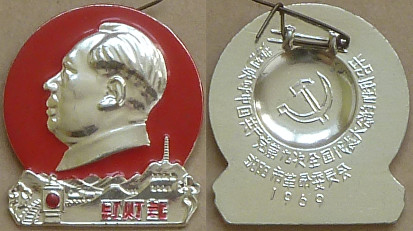 The signalman's lantern became an instantly recognisable icon for the opera, and a stand-alone symbol that represented revolution. On Maozhang it is often associated with Yan'an (as on the examples shown here). Yan'an was the Communist headquarters during the second United Front against the Japanese and the location for Mao's speech on art and literature, which was Jiang Qing's inspiration and justification for the creation of revolutionary model works.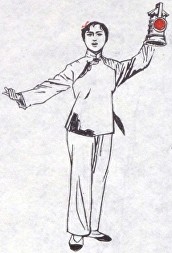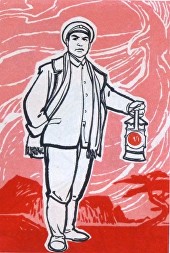 Left: Li Tiemei with her father's lantern - an exemplar from an art school textbook
* The Wade-Giles transliteration is still used in this context. Peking opera was one of many regional opera styles, and had found acceptance as the closest thing to a "national" style.
Right : Li Yuhe in The Red Lantern - one of many masthead book portrayals of the leading characters in revolutionary model works.
For badges by the same Liaoning-based designer/studio see: Mountain and Torch