The Red Guards failed to live up to Mao's vision of a unified generational revolutionary force; instead they immediately degenerated into vandalism, in-fighting, factional rivalry, and armed conflict that resulted in many thousands of casualties. Whatever their local allegiance in the ensuing chaos, all Red Guards fiercely claimed ultimate allegiance to Chairman Mao's revolutionary line, and the red flag of revolution was a favoured emblem for Red Guard badges.
Above left: obverse inscription, "Red Rebel", badge issued by Changchun City Red Guard Headquarters
Above centre - badge issued by Wuhan's biggest Red Guard unit, the "Steel-Tempered 2nd Headquarters"; the reverse inscription reads, "Mao Zedong Thought Red Guards, Wuhan Revolutionary Rebel Command"
Above right: badge issued by the 10th April Red Guards at Guangya High School, Guangzhou; reverse inscription, "Hold High The Red Flag, Revolution To The End!"
Left: Red Guard badge issued by Xi'an Area Revolutionary Rebel Command
The badge below left is an Autumn Harvest Uprising commemorative issued by the Chongqing Sixth Corps 32111, a Red Guard unit named for the No. 32111 Drilling Team killed in June 1966 while tackling a fire in the Daqing oilfield.
The badge below right was issued by another Chongqing Red Guard faction, the "Rebels to the End Warriors"; the obverse inscription reads, "Red banners wave freely in the west wind" - a quotation from Mao's poem, Liupanshan.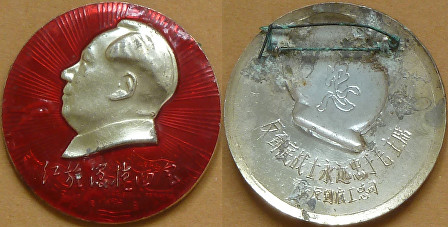 The badge below has the obverse inscription, "Revolutionary Committees are Good" and was issued by Nanning No.1 High School Red Guards Corps.
Below left: military style badge issued by Hangzhou University of Technology Red Guard Revolutionary Rebel Headquarters; the serial numbering is unlikely to have started at 00001.
Below right: the obverse inscription reads "Red Northeast"; issued by Mao Zedongism Red Guards Shanghai Northeast Command. The phrase "Mao Zedongism" did not meet with the Chairman's approval.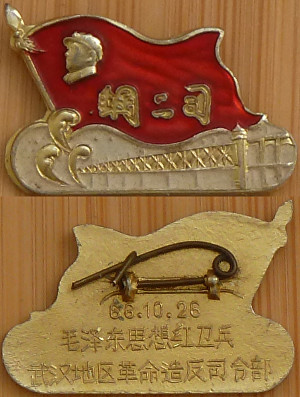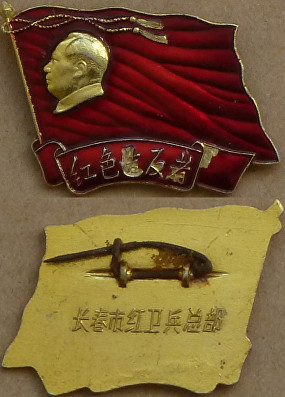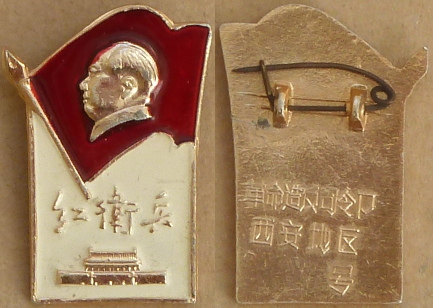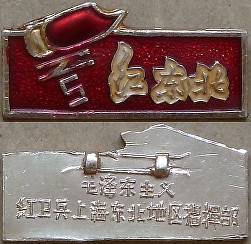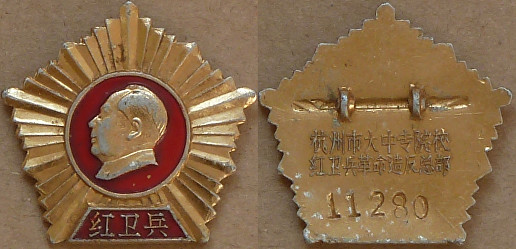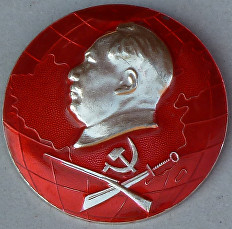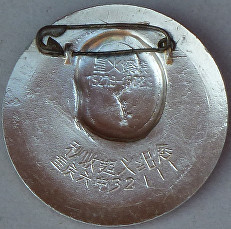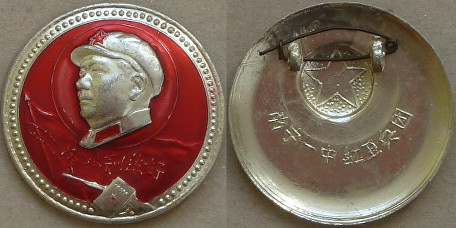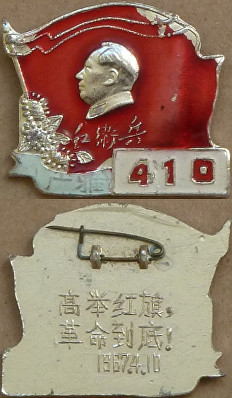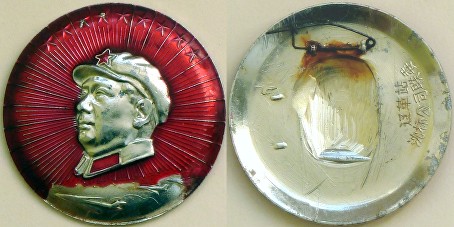 The badge below, which used a modified reverse die, was issued by the Shenyang Railway Jingganshan Corps of Red Guards