Below are Nos. 3, 5, and 7 of a set of badges which, if numbered in chronological order, may well have consisted of just seven items. Each badge "illustrates" on the obverse a line from one of Mao's poems inscribed on the reverse.
Note that the badges are embellished and further differentiated by variations in the design of the "sunray striations". The six red flags that are consistently depicted represent China's 600 million population.
"The Red Army fears not the trials of the Long March"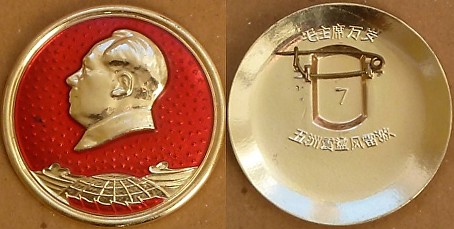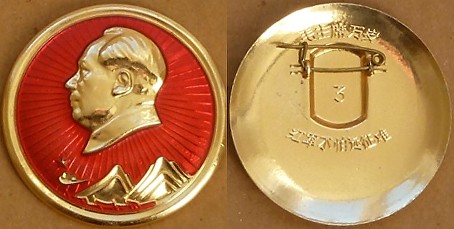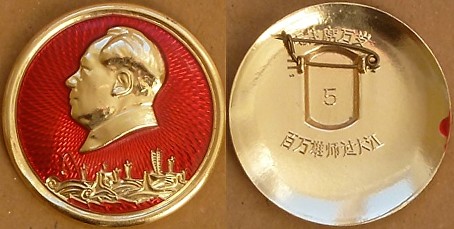 The opening line of The Long March (1935) - the obverse depicts six red flags below Jinggangshan (the symbolic start point) with a stylised cloud and a single five-pointed star.
"Our mighty army, a million strong, has crossed the Great River"
The second line of The Capture of Nanjing (1949) refers to the Red Army crossing the Changjiang. The obverse has six red flags beneath a conventionalised image of the crossing with sailcraft on waves surrounded by spouts of water caused by exploding shells.
"The Five Continents are rocking, wind and thunder roaring"
A line from For Guo Moruo (1963), the final entry in the 1968 collection Poems by Chairman Mao.
The obverse has six red flags beneath a globe flanked by turbulent waves. Rather than representing history, this badge reflects Mao's aspiration that he (and through him China) was at the centre of a worldwide revolution.