The revolutionary model opera Shajiabang had its origins in a 1960 Shanghai opera entitled Emerald Water and Red Flags. In early 1963 a revised script was presented under a new title, Sparks amid the Reeds. Jiang Qing saw this new version and requested that a Peking opera company perform the work in Beijing that summer. Adapted to the Peking style, and with the lyrics given a literary polish, Sparks amid the Reeds proved extremely popular. Mao saw it in 1964 and liked it, but he did not approve of the title. Stating that sparks would not set wet reeds alight, he suggested the work be named after its location, hence Shajiabang. In 1966 it was declared a "model" work. The badge at right portrays the two main characters, Sister Aqing and Guo Jianguang.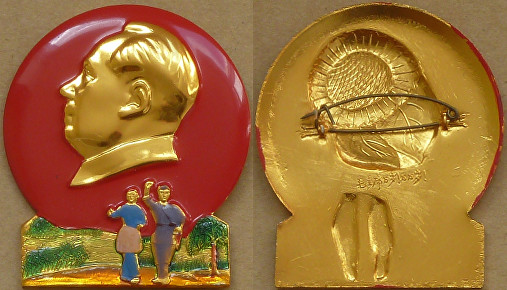 The story is set during the War of Resistance in Japanese-occupied territory to the west of Shanghai. Shajiabang is a small market town on the marshy reed-fringed shore of Lake Yangcheng where Sister Aqing, who is secretly a Communist Party member, works in a small tea-house patronised by officers of the puppet "Loyal and Just National Salvation Army". Unbeknown to her patrons, Sister Aqing is helping care for eighteen wounded soldiers of the New Fourth Army who are hiding in the marshes. Mao had greatly approved of the theme of co-operation between civilians and the military, although he would have liked more emphasis on the military. At Jiang Qing's insistence the role of Guo Jianguang, the Red Army political instructor, had been enlarged and enhanced from the original Sparks amid the Reeds script, although she had not at this time fully developed her "three prominences" theory. Further modifications, especially to the dance routines, continued to be made until a definitive script was published in 1970.
(The script indicates that lines printed in italics are to be sung or declaimed)
Scene Five
(As a storm approaches)
Guo: We must be like the pines on the summit of Mount Tai!
His men: We must be like the pines on the summit of Mount Tai,
Standing erect and pround against the sky.
No hurricane can blow them down,
No thunderbolt rend them asunder
Chinese Literature 11, 1967 contained an English translation of the script (as it then was) together with eight pages of colour photographs - a costly indication of official approval. The above picture shows Sister Aqing winning a battle of wits with the commander of the puppet National Salvation Army.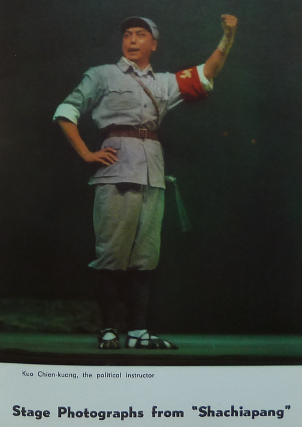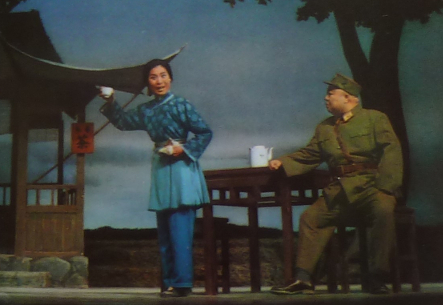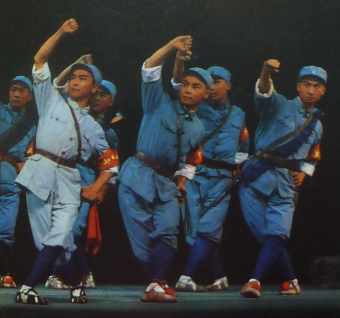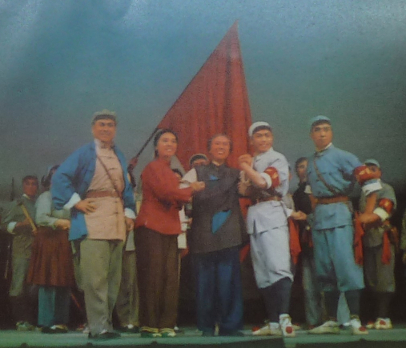 Scene Seven
Shah (a peasant activist): In August 1937 the Japs invaded Shanghai,
Our land south of the Yangtse was lost;
Corpses piled up like mountains, seas of blood were shed,
Flames scorched the earth far and wide.
The Party and New Fourth Army resisted Japan,
Endured hardships and marched east to the enemy rear,
Freeing towns and villages;
Where the red flag flies, there is singing,
As people see the light of day again.