The obverse of the badge at right portrays Yang Zirong, wearing his distinctive tiger-skin waistcoat and fur-lined coat, the hero of Taking Tiger Mountain by Strategies, which is named beneath.
Xiamen issued an undated set of eight badges entitled "Revolutionary Modern Model Works" numbered 8-1 to 8-8 on the reverse. The obverse of each badge named one of the eight works and depicted an appropriate character or motif. The reverses also carried the inscription "Long live the success of Mao Zedong Thought".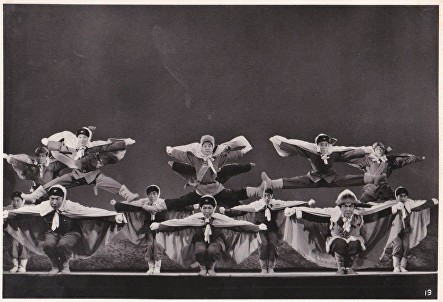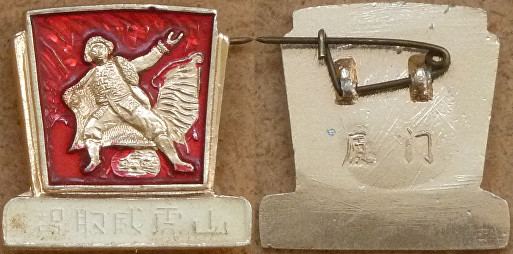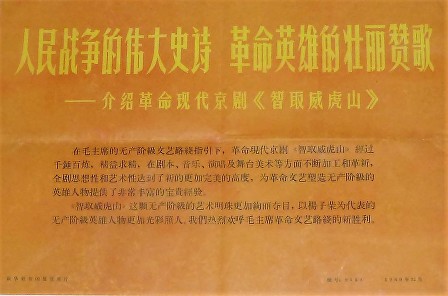 This badge is the same size and carries the same obverse design as number 8-5 in the set and was almost certainly struck from the same die. The reverse, however, has no reverse inscription other than the city of origin, and the die shows signs of extensive reworking (including the filling of a central depression).
Xinhua Agency News Poster dated December 1969 announcing the release of the film version, which is described as being "ideologically perfect "and a "gorgeous and eye-catching proletarian art pearl".
The revolutionary model opera Taking Tiger Mountain by Strategies is based on the 1957 novel Tracks in the Snowy Forest by Qu Bo that recounts the exploits of a small detachment of Red Army soldiers operating against Nationalist bandits in Manchuria during the War of Liberation. The opera revolves around a particularly daring exploit when platoon-leader Yang Zirong infiltrates the bandit's mountain-top stronghold and passes back information that allows the soldiers to successfully attack the stronghold during a New Year's Day feast.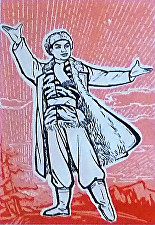 Yang Zirong's flamboyant costume made him by far the most recognisable of the male characters in the revolutionary model works.
The first version of a Taking Tiger Mountain by Strategies opera was produced by a Shanghai opera company in 1958. Jiang Qing arranged for a revised version to be performed in 1960 for an audience including Mao and Premier Zhou, who approved the work. After five years of improvements and refinements, closely supervised by Jiang, the final and fully approved version was performed in Beijing as a part of the 1966 National Day Celebrations.
Taking Tiger Mountain by Strategies was the first of the model works to be filmed. Production began in 1967 and the film, in vivid colour, was released at the beginning of 1970. As one of the few films available for public viewing, audience figures had reportedly reached the hundreds of millions by the end of 1975.
Original black and white film still (number 13 from a set of 20 distributed with the Xinhua poster) that captures something of the energy and dramatic flair of the full-colour film.