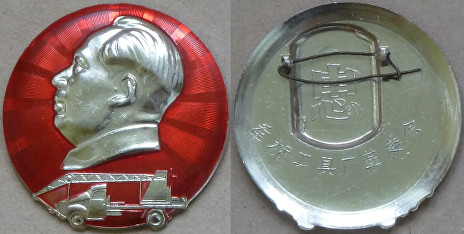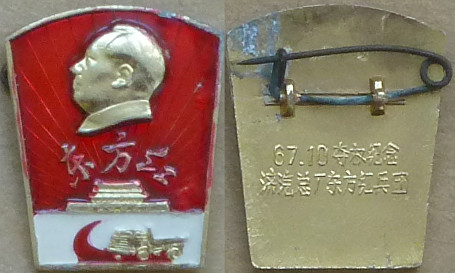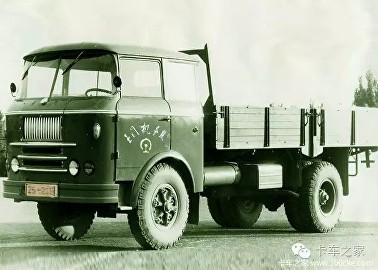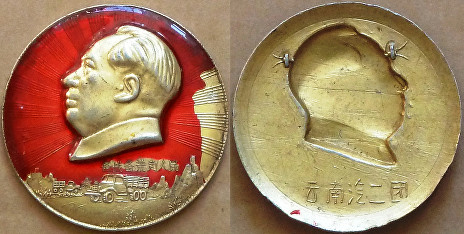 The badge below commemorates the power seizure by the East Is Red Corps at the Jinqi General Factory in October 1967. The Jinan Automobile Manufacturing Plant (commonly known as Jinqi General) was established in 1956, and in 1958 was given the task of producing the first Chinese-made heavy truck. The first Huang He (Yellow River) JN-150 rolled off the production line in 1960.
The importance of road transport is emphasised on these two badges from the far west of China that feature Jiefang trucks amid mountainous terrain. The badge at left has the obverse inscription, "Be Prepared for War, Be Prepared for Natural Disaster, and Serve the People"; it was issued by the Yunnan 2nd Gasoline Group and portrays two Jiefang CA-30 6-wheel military trucks. The badge at right, with 4-wheel CA-10 trucks, has the obverse inscription, "Xinjiang Revolutionary Rebel Factions - Xinjiang Transport".
The badge at left was issued, and probably made by, an unidentified heavy machinery factory, features a Jiefang CA-10 crane truck. By reducing the size of the truck slightly, the design could have been contained within a circle. By choosing to break the circumference at several points the factory was demonstrating its technical proficiency.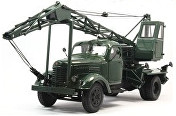 A model of the CA-10 crane truck showing the offset position of the operator's cabin and the retractable stabilisers at the side.

A JN-150 used by China Railways