These five badges from Shaanxi obviously belong to a souvenir or presentation set, and may form the complete set.
The iconic view at right, of the Yanhe River Bridge with the pagoda atop Baota Hill and cave dwellings below, appears on many Maozhang issued in all parts of China and represents Yan'an as one of the "Big Five" sacred revolutionary sites. The other badges depict individually significant sites in the Yan'an district. The pagoda serves as a symbolic locator and cannot actually be seen as a landscape feature behind these other structures.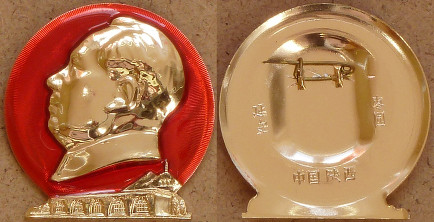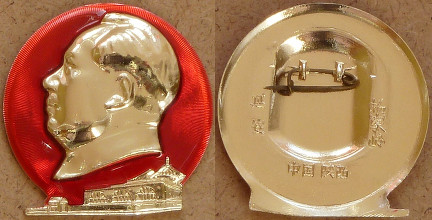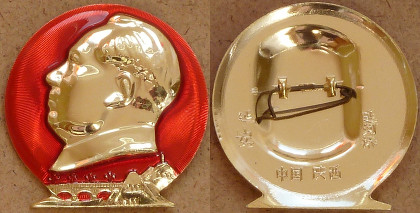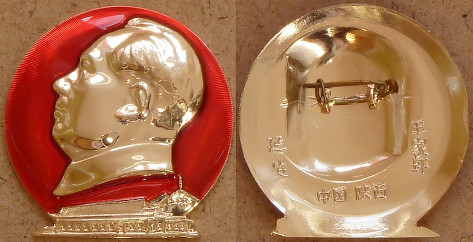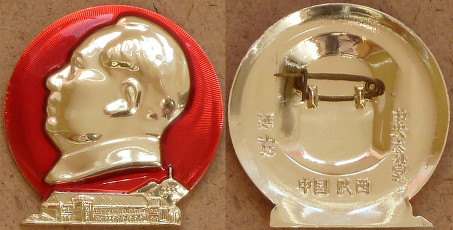 Zaoyuan - the "Date Garden" - was a small enclosed estate that had belonged to a local warlord.
Mao Zedong, Zhou Enlai, Liu Shaoqi, Zhu De, Peng Dehuai and other members of the leadership moved here in 1943. Zaoyuan also housed the offices of the CCP Secretariat until 1947.
Mao's former residence at Yangjialing. Mao and other CCP leaders lived and worked at Yangjialing village from November 1938 to October 1943, when they moved to Zaoyuan.
Wangjiaping - "The high land of Wang Family" - was the headquarters of the Central Military Committee and the Eighteenth Group Army between 1937 and 1947. The building has not been identified, but the architectural style suggests that it was an ancestral hall or temple.
The Great Auditorium (zhongyang di litang) at Yangjialing, built in 1942, was the venue for the Seventh National Congress of CCP in April 1945.