born: Ontario, Canada 4th March 1890 died: Hebei, China, 12 November 1939
Physician, Surgeon, Communist, Hero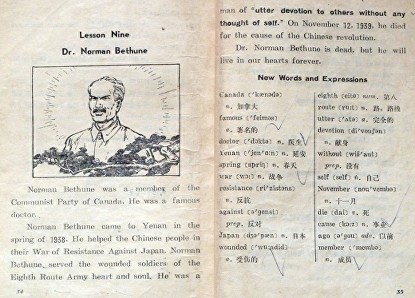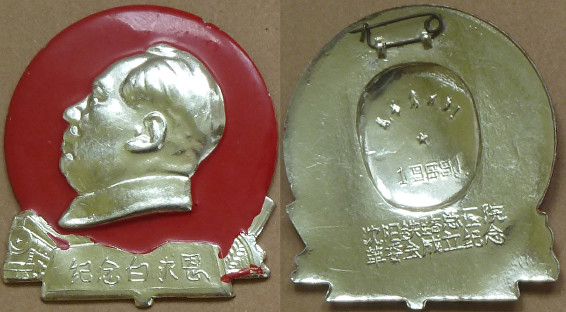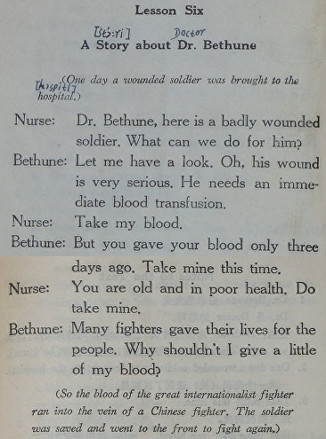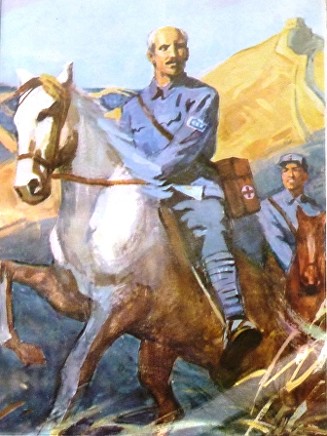 After completing his medical training Bethune served briefly as a military doctor during the final year of WWI and subsequently became a successful and innovative civilian doctor. After visiting the Soviet Union in 1935 Bethune joined the Communist Party of Canada. In 1936 he travelled to Spain where he set up a mobile blood transfusion service for the Republican army in the Spanish Civil War. Bethune returned to Canada in 1937 then set out for China to assist the Communist cause; in January 1938 he arrived at Yan'an. Bethune served in the Eighth Route Army, and treated hundreds of wounded soldiers and civilians. He died from infection after cutting his finger during an operation.
Middle School English Book 5, Lesson 6 Henan 1972
Middle School English Book 3, Lesson 9
Hunan 1972
Frontispiece, Middle School English Book 5 Tianjin 1983
Norman Bethune is one of only a handful of non-Chinese to be mentioned on Maozhang. What makes him even more exceptional is that today when Engels, Stalin and Hoxha are pretty much forgotten, Bethune is still revered in China for his selfless dedication to others. While his courage and skill were undoubtedly appreciated by those who encountered him, Bethune might very well have become one of countless unsung heroes. What propelled him to national fame was Mao's eulogy, In Memory of Norman Bethune, written a few weeks after the doctor's death. By the middle of the 1960s this essay was a set text in Chinese schools and one of the "Three Constantly Read Articles" that all citizens were supposed to study for personal development.
Commemorating Norman Bethune h. 56mm w. 50mm 7.2g